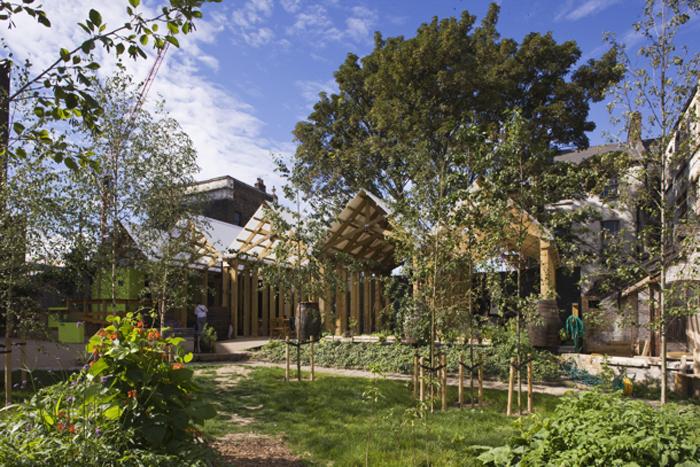 Multipurpose theatre: Arcola theatre
Buildings are often built for a specific purpose. There is a tendency not to look beyond this original function, which frequently leads to underuse of space. At Arcola Theatre however, in addition to various theatre shows, you will find an extensive programme of youth and community arts workshops. It is an inspiring example of how community resources can be used more efficiently by making the building multifunctional and open to a range of activities.
Arcola Theatre was founded by Turkish immigrants in a former textile factory in a part of East London that has many first and second-generation immigrant residents, amongst those a prominent minority of people of Turkish descent. The theatre came into existence in 2000 as a place that was open for local initiatives and has since become well known in London for its varied programme.
The programmes in the Arcola Theatre include:
+ Creative learning: Arcola theatre offers a wide range of opportunities for the local community. It organises workshops, performances or bespoke projects for students in co-operation with schools; provides free drama classes for elderly people and has created a Turkish-Kurdish group that has developed several productions.
+ Arcola Theatre's Creative Network: Arcola creative network is a recruitment and training programme for talented young people seeking a career in the creative, media, leisure and green-technology industries. It provides a network for both employers and employees, ensuring that talented young people have the best access to on-the-job training and employers have access to a wide range of potential employees.
+ Arcola energy: Since 2005 the theatre has served as a testing ground and demonstration platform for sustainable energy solutions created by the local community. Arcola is the first carbon-neutral theatre in the UK.
The Arcola Theatre also manages a local community garden in which different activities are organised.
Information and pictures sourced from http://www.arcolatheatre.com/ | All rights reserved.