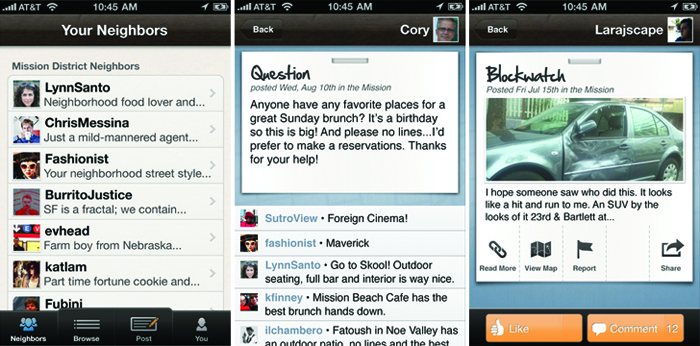 Blockboard
Internet and mobile applications can bring you in contact and help you stay in touch with people from the other side of the world. But increasingly developers see the potential of using apps to connect with people close by. Blockboard virtually puts your neighborhood in your pocket by helping you to connect with people in your neighbourhood.
Blockboard is a bulletin board for neighbours that keeps them up-to-date on what's happening nearby and helps them make their neighbourhood a better place. It is currently only available for neighbourhoods in San Francisco, but aims to become available on a broader scale.
Communities can use Blockboard to:
+ Meet their neighbours
+ Get nearby news and events
+ Ask locals for advice
+ Find neighbourhood deals
+ Form their own mobile "neighbourhood watch"
+ Clean up their neighbourhood by reporting problems to the city
Blockboard shows how mobile phone technology can enhance how communities function socially and economically. Moreover, by sourcing and spreading local news it can improve local community spirit.
Information and pictures sourced from http://itunes.apple.com/us/app/id424012571?mt=8 | All rights reserved.