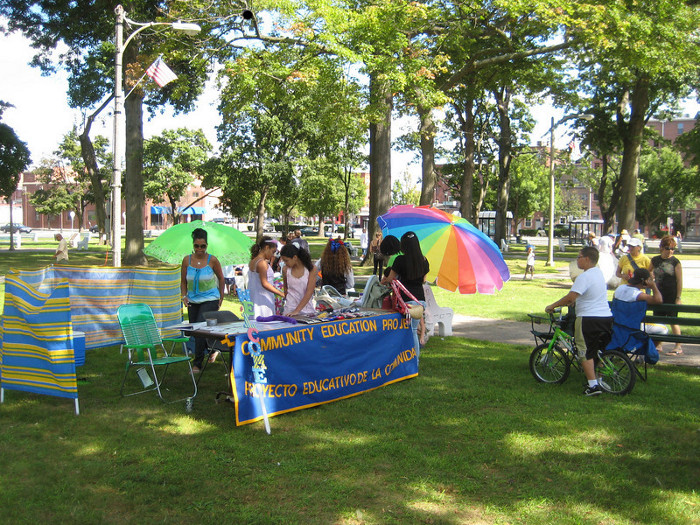 Self-educating communities: Holyoke Community Education Project
Public services often show gaps in meeting the needs of communities for education, health care, etc. Especially in times of budget cuts or when the organisation of public services is devolved to the community level (such as with the UK localism bill), community organisations have to step in to organise these services. The Holyoke Community Education Project (CEP) shows how this can be successfully organised. CEP works towards social and economic justice by contributing to the development of a capable, informed, and self-determining Latino Community. Organising different educational programmes it shows how a community can become self-educating.
CEP is based in Massachusetts, USA and started in 1991 as an English as Second Language programme based in the Latino community. CEP's work is carried out through adult literacy and language education programmes as well as through grassroots action initiatives. The project is broadly targeted at people who feel academically or otherwise unprepared for college. Students include for example first-generation college students or people with low-income, many of whom have their roots in the Puerto Rican or other Latino communities. What is essential is the attention that is given to stimulating people to participate, as many might not be confident enough to take the step towards further education or fear negative reactions from their communities.
Three different programmes are run:
+ Adult Basic Education Classes, which provide, for example, both Spanish and English lessons, preparing the students for a GED test, among other classes.
+ Kimbombó Community Theater, which is comprised of CEP students, staff and other members of the Latino community and produces plays that address issues of importance to the Latino Community such as domestic violence, HIV/AIDS, and other social and health related issues.
+ The College Transition Program, which focuses on preparing members of the community for college education and, at a later stage, universities. To stimulate attendance, participants receive free bus passes and assistance with financial aid and admissions applications.
What makes the programmes stand apart is that they do not just focus on their core content. Students are in fact taught social skills as well. For example, how to respect human dignity, how to live in solidarity with others and how to seek the well-being of all. In this manner, the programmes aim to increase students' awareness of social and economic inequalities in their communities and teach people how to deal with them.
Information and pictures sourced from http://www.cepholyoke.org/ | http://sward.smugmug.com/Events/Blockparty | http://gardens4humanity.wordpress.com | All rights reserved.