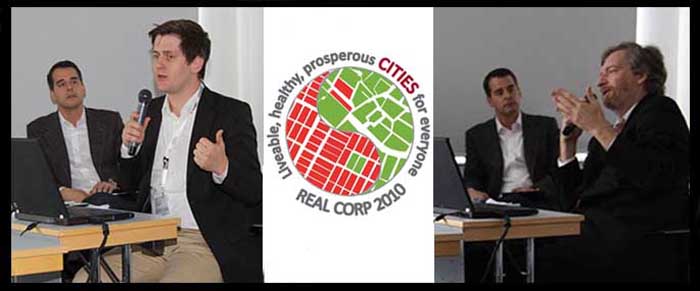 Whilst urbanisation is still considered a dominant and inevitable phenomenon in today's spatial development and is even welcomed and praised by many actors, the joint CLEAR VILLAGE and GIVE workshop at Real Corp Conference 2010 argues that there is no "liveable city" without a hinterland. Rural areas are essential – not only to feed the city but also to provide us with many other indispensable qualities of life.
The 15th annual Real Corp International Conference on Urban Planning and Regional Development in the Information Society was held in Vienna, under the motto "Cities for Everyone: Liveable, Healthy, Prosperous, Promising Vision or Unrealistic Fantasy? The role of Urban Planning and Technologies on the path towards improved Quality of Life, Health, Sustainability and Prosperity in our Cities."
CLEAR VILLAGE think team member Chris Garvin, team member Karsten Stampa along with Franz Nahrada from GIVE presented their concept at Real Corp 2010 as part of a programme of fascinating presentations. GIVE (Globally Integrated Village Environment) is a research group in Vienna founded by Franz Nahrada in 1992 and one of CLEAR Village's network partners. Its purpose is to promote and organise enabling research and development for rural community building.
Even though more than 50% of the world population still lives in peri-urban and rural areas, it was shown at the conference, once again, that the trend and also the bulk of investments goes towards bigger and denser cities. The joint CLEAR VILLAGE and GIVE workshop called "The Rural Renaissance" and the discussion that followed aimed to provide a counterweight to this bias and hence focused on the question: "How can we integrate more functions into rural spaces that were previously unavailable in order to enhance the quality of life they can offer?"
CLEAR VILLAGE believes there is an alternative to dwelling in cities by building up a network of connected villages. Although there can be no rural renaissance without bridging between cities and their hinterlands, one of those bridges is the communicative connection with city hubs. This concept puts planners & developers in a new position: a village cannot be constructed like an urban settlement for an anonymous market, but should be built collaboratively through a participatory approach.
Click here to download the complete CLEAR VILLAGE PDF from Real Corp 2010.