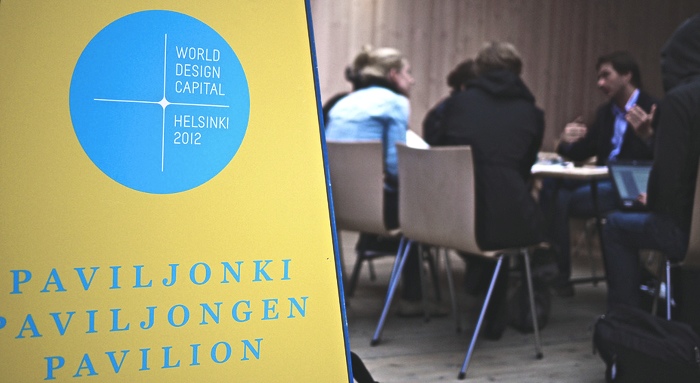 MAKE.HELSINKI
make.helsinki is a collaborative project between CLEAR VILLAGE and DEMOS Helsinki to explore how public space can be used in novel ways when designed in a participatory – and playful – manner!
The project has three main aims:
+ To map out currently underused and overlooked spaces in Helsinki
+ To understand how such spaces can be turned into problem-solvers for larger issues
+ To co-design and co-implement a guerilla intervention in an actual space in Helsinki to showcase the effectiveness and excitement of participatory approaches
make.helsinki is about creating a collaborative intervention as a way to stage a respectful invasion, as Thomas put it, and build a what if city, as Tommi put it. Yet it is also, more simply, about having fun: about getting to know new people, seeing the city through a different lens, and acquiring new skills or polishing up old ones. So whatever your background or your skill set, sign up here for our second workshop (it's free) and come and make.helsinki with us. You can find more information about make.helsinki on the project's website.

Workshop One – Mapping (Tuesday 19th June) participants built teams to identify hidden gems, that is overlooked spaces where a small intervention could have a large impact, in different parts of Helsinki.

Workshop Two – Generating (Wednesday 15th August) participants engaged in deeper exploration of these spaces to determine which is the ideal one for a guerilla action and what such an action could aim to achieve.

Workshop Three – Making (Thursday 13th September, 12am-9pm), which will take place during Helsinki Design Week, will see participants co-designing their guerilla intervention for the selected space and then staging it.
The workshops have been hosted at The Pavilion of the World Design Capital, located at Ullanlinnankatu 2-4. It's been a great venue and we've also been delighted by the passion that participants have brought to the make.helsinki project. We were battered by storms during the first workshop and scorched by summer heat in the second, but our teams remained unphased and came up with some excellent ideas!
With the first two workshops behind us, we're very excited to announce that workshop 3 is set to be a real climax and will see four guerrilla interventions being staged in different parts of Helsinki: Hernesaari, Siilitie, Itä-Pasila and Mellunmäki.


Take a look here at our open-source PlaceMaking map, which documents some of the hidden gems of Helsinki collected by the participants of workshop 1 and other contributors.