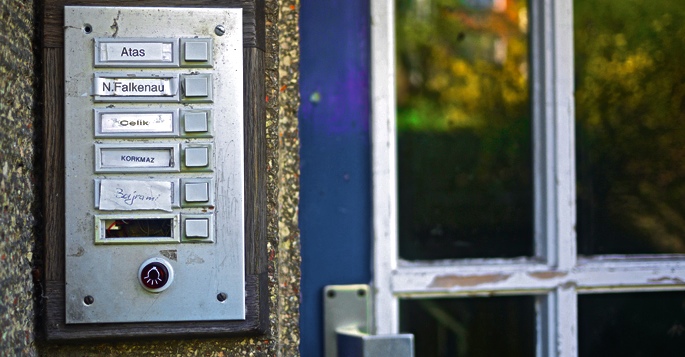 REPAIRING BROKEN COMMUNITIES
CONTEXT
Gaarden-Ost in Kiel is a typical example of a marginalised urban community. With a high proportion of immigrant, unemployed and single households, the neighbourhood runs the risk of degenerating into a ghetto. After acquiring a large number of properties in Gaarden-Ost which were previously social housing, an Anglo-German asset management company found itself under increasing pressure to achieve its bottom-line goals of raising rents, reducing vacancies and lowering tenant turnover. The company initially called in CLEAR VILLAGE working in partnership with Etikstudio to assist with the refurbishment of a number of vacant apartments in Gaarden-Ost. However, given the challenges but also the opportunities in the neighbourhood, it was soon decided to move from a refurbishment to a regeneration project.

WHAT WE DID
Design residency
A CLEAR VILLAGE team of German-speaking design analysts engaged in a 4-day on-site residency to conduct qualitative interviews with tenants. Information brochures were developed and sent to tenants in advance; a meeting space was established on the premises where tenants could speak to CLEAR VILLAGE at all times; and further outreach took place by carrying out interviews in the streets and open spaces as well as by knocking on doors and following referrals. In total, 10% of all households that lived in the asset management's Gaarden-Ost properties were interviewed, resulting in a wealth of data on how people viewed the neighbourhood, what they perceived as the strengths and weaknesses, and what their hopes and dreams were for the future. These findings were collated in a Wellbeing Analysis report which served as the foundation for all further activities.
Scenario planning for vacant apartments
One of the key findings of the Wellbeing Analysis was the need to diversify the composition of the neighbourhood and bring in under-represented groups such as students and families with children to introduce a new element of dynamism. Based on a study of the rental market in Kiel in general and Gaarden-Ost in particular, typologies for potential new tenant groups were developed. With its in-house expertise and also drawing on its network of architects and placemakers in Germany, CLEAR VILLAGE and Etikstudio then determined three levels of refurbishment interventions- simple, medium and large- incorporating spatial, aesthetic and sustainable improvements in order to attract different typologies whilst at the same respecting and bolstering the values identified in the neighbourhood.
Revitalising and igniting the neighbourhood
Going beyond refurbishment, a variety of initiatives were developed to address key areas of dissatisfaction amongst tenants, including uninviting interiors, ill-kept open spaces and insufficient opportunities for community building. Initiatives were inspired by best-practice innovation from around the world collated by CLEAR VILLAGE's Observatory and were designed to ignite community spirit and wellbeing whilst accommodating the asset manager's time and budgetary restrictions. Particular emphasis was paid to improving service levels; given that this was a particularly strong source of tenant dissatisfaction yet also a point that the asset manager wished to establish as a USP, a comprehensive programme was developed to bridge the gap between actual and desired service levels.
Rebranding and story-telling
Finally, a communications plan was developed to shift the narrative about Gaarden-Ost. The current neighbourhood brand was analysed, a new brand identity was defined, and a graphic identity was provided to support outreach efforts to key stakeholders such as the city and desired tenant groups and underline the message of change.
OUTCOMES
All the initiatives were collated in a comprehensive Neighbourhood Identity Guide which provided the asset manager with a roadmap to increase tenant wellbeing, attract new tenant groups, ignite and rebrand the neighbourhood, and establish superior service levels as a USP on the German property market. The client was thus enabled to embrace an innovative approach to Corporate Social Responsibility, in which tenant wellbeing is not a soft extra but a strategic goal that directly impacts bottom-line performance. Moreover, the individual initiatives were designed for maximum replicability to enable the asset manager to pilot them in Gaarden-Ost, roll them out to its 3k other properties in Germany, and scale them up to the 30-40k additional properties that will be acquired in coming years.