Small Works
Small Works is a joint programme by CLEAR VILLAGE and CIVA that helps communities to unleash their potential and build a better future. We do so by turning empty spaces into community assets, working with residents to identify local challenges and opportunities, facilitating an ongoing process to develop solutions, and initiating workshops and other activities to build local skills. Our goal: to ignite resilience from within. Launched in 2012, Small Works is currently operational at Regent Estate in Hackney and Vauxhall Estate in Victoria and will expand to other locations in London in the course of 2013. Based on CLEAR VILLAGE and CIVA's extensive experience of community regeneration, the Small Works programme incorporates the following components, which are tailored to the specific needs and requirements of each local community.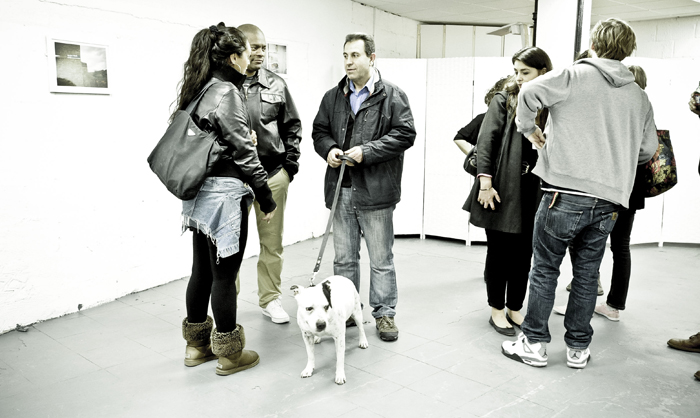 Space Selection
Working with space owners such as housing providers and local authorities, we identify empty or underused spaces, which have the potential to be brought to life and transformed into hubs for uncovering and addressing community issues.
Well-Being Analysis
Going into a community with an open mind, we first try to find out what locals want and need. We do so through a series of questionnaires and interviews, which are then combined into a holistic well-being analysis. The analysis provides a snapshot of community well-being, demonstrates to locals that their opinions and aspirations are valued, and also provides benchmark data to evaluate the success of the project.
Community Labs
Based on the challenges and opportunities identified in the well-being analysis, we conduct facilitated community workshops ('labs'), which empower locals by embracing their expertise and enabling them to develop their ideas through participatory design techniques. The community, rather than the so-called experts, drives the agenda by defining what the neighbourhood needs and how this can be achieved.
Projects and Activities
In line with the vision and roadmap developed at the labs, an ongoing programme of activities and opportunities is organised hand in hand with the local community and partner organisations. Examples of Small Works activities conducted thus far include: writing and communication courses for the unemployed, theatre workshops to prep for job interviews, bicycle maintenance and repair courses, music and arts education classes, and community events to redefine, improve and reconquer the public space.
At the heart of Small Works lies the belief that every neighbourhood is brimming with opportunities and that it's often just a matter of bringing it all together: spaces, ideas and people. Though the mandate at each Small Works location may differ, the goal is always the same: true community empowerment and an improved quality of life for local residents, by means of a cost-effective model that respects and makes the most of what is already present.