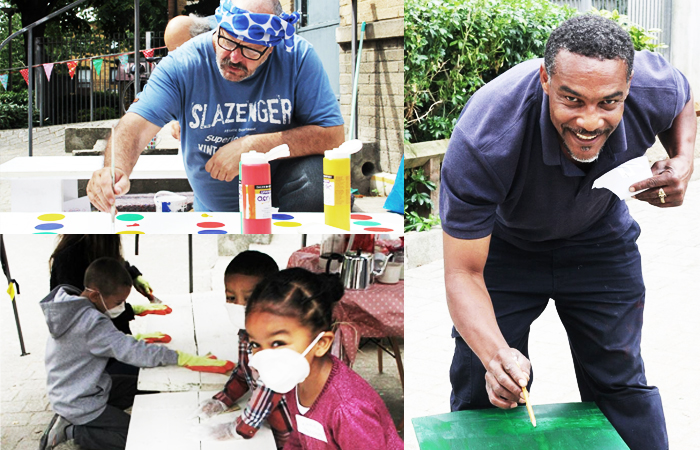 The Community Bench Project
In August 2015, we ran a series of up-cycling workshops from our Small Works centre in Kings Cross. We held five days of workshops in woodworking, designing and painting, led by experienced facilitators. It was an opportunity for residents living in neighbouring blocks on Priory Green estate to meet other locals, engage in introductory workshops on woodworking and to meet both the Small Works team and social enterprise members.
A variety of people joined in – a boxing teacher who added his signature gloves to the picture, a workman who captured the Grimaldi crescent, and local children from the estate with boundless energy. Together they sanded, prepared, designed and painted the benches. The result? 8 beautiful benches, each with it's own little story! (see below)
All benches have been donated to new homes in and around Priory Green Estate. For example, Cinnamon Cafe on Collier Street has adopted the chess board bench in their seating area, and the community arts space Project One Zero, has taken the colourful dotty bench as seating for their evening sessions. The idea behind giving the benches to local organisation was to create a trail for residents to follow and discover what's happening in the community.
See our interactive map below or download a PDF of the route here.