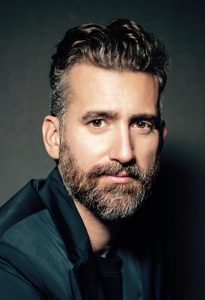 Thomas Ermacora FRSA is an award winning Danish Architect-Urbanist, technology futurist, social entrepreneur, impact investor, cultural pioneer, author and humanitarian.
Focused on bleeding edge social impact design and open source solutions since 2002 he has acted as strategic consultant for cities, developers, social landlords, local authorities and curated exhibitions to promote systems change.
In 2008 he founded CLEAR VILLAGE, the regeneration and acupuncture architecture non-profit – delivering programmatic interventions to imagine new commons that restore community well-being and build capacity for local resilience of fragile communities. Big Lottery program Awardee 2010, Royal Institute of British Architects (RIBA) Building Futures advisor 2010, Helsinki World Capital Design pavilion co-host 2012, CLEAR VILLAGE was the UK Placemaking Awards nominee 2014 & 2015 and RIBA tactical urbanism winner 2015.
His book Recoded City: Co-Creating Urban Futures (Routledge 2016) is a vibrant and critically acclaimed global survey of the potential of participatory placemaking to empower citizens today.
Beyond his social enterprise profile, he is on the board of a suite of early stage exponential technology startups and an advisor to the development of ecovillages looking at new models to meet the SDGs faster, especially considering approaches to serving indigenous populations and ways to channel large scale bioremediation approaches. Thomas is also currently involved in launching challenge organisations with the Vatican, NASA and MIT serving the 'bottom billion', the refugee crisis, and mitigating climate change.
UN COP15 Exhibitor, laureate of Next Moscow 2009 Festival for 'Dreams on Wheels', Reburbia Dwell/Inhabitat Competition Jury 2009, INDEXaward nominee 2013, and Clinton Global Lead Fellow 2015, he is an expert advisor to the PPS/UNHabitat Global Placemaking Forum and World Economic Forum (WEF) 'Shaping the Future of Urban Services and Infrastructure Initiative' and has spoken at over 100 venues including Techonomy, Singularity Summit, and the UN General Assembly.
Some of his previous events include, Near Future Summit, TEDxBeaconStreet, Right Now! Vatican, Smart City Expo, Small Works: Social Enterprise Hub, Honey Creative, Life Is Beautiful, mhNOW CGI, Project for Public Spaces, Singularity University Global Summit, Fab Shenzhen Fabricating the Future, and NOVUS UN Summit.
Follow him on Twitter at @termacora.