Small Works
Small Works is a joint programme by Clear Village and CIVA to turn underused spaces into vibrant centres for social enterprise and community services. At the heart of Small Works lies the belief that every community is brimming with potential and that it's often just a matter of bringing it all together: spaces, ideas and people. Though the mandate at each Small Works location may differ, the goal is always the same: to foster social entrepreneurship and involve local residents by means of a cost-effective model that respects and makes the most of what is already present.
Our first Small Works space was launched at Regent Estate in Hackney in April 2012 in partnership with Hackney Council. Our second Small Works space was opened at Vauxhall Estate in Victoria in December 2012 in partnership with Peabody. In October 2014 we opened another space in partnership with Peabody near Kings Cross in the Priory Green Estate. Our goal is to turn our experience into a replicable blueprint for a network of spaces across London and beyond.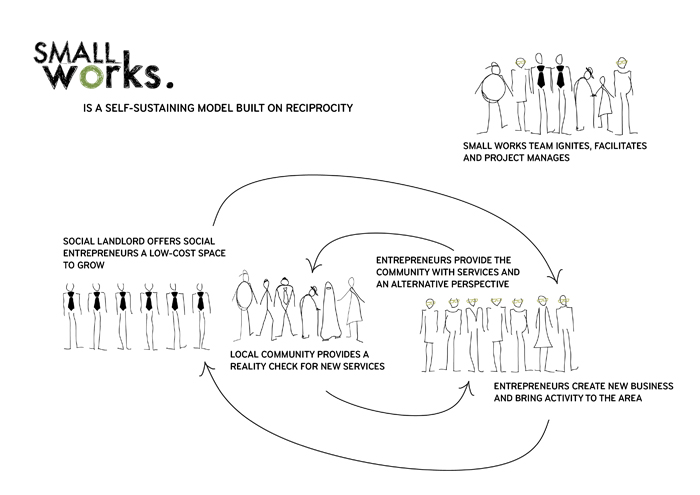 The key components of the Small Works approach are as follows:
+ Space development +
We work with space owners, such as social landlords and local authorities, to identify empty or underused spaces which can be turned into community assets.
+ Well-Being Analysis +
We carry out a comprehensive quantitative and qualitative analysis to understand community challenges and identify how the Small Works space can deliver most value.
+ Small Works members +
We offer inexpensive work space to social entrepreneurs looking for somewhere to base themselves. In return they pay a monthly rate of £100 to cover overheads and contribute to the community through regular "Give Backs." An example of one of our most successful community "Give Backs" is PROJECT SOUP.
+ Community Services +
Together with our members and the local community we develop a programme of activities that respond to the local needs identified in the Well-Being Analysis. Activities range from IT training to social events, from personal development courses for the unemployed to participatory design workshops to improve the public space.
At a time when many traditional community services are facing severe pressure from budget cuts, Small Works provides a fresh alternative by offering a new operating model, bringing social entrepreneurs into the mix and working hand in hand with the local community from the outset.